Susan Mendez-Eastman RN, CWCN, CPSN
Should you consider using negative pressure wound therapy with instillation and dwell (NPWTi-d) on every wound ALWAYS? An experienced wound nurse discusses some contraindications.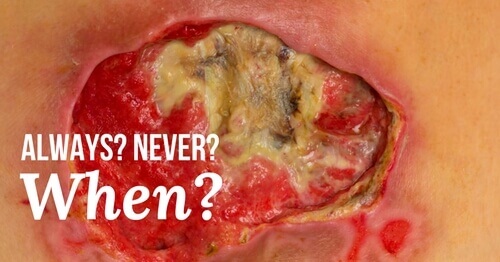 I am a huge proponent of V.A.C. VERAFLO™ Therapy, but I would NEVER endorse that you should ALWAYS use V.A.C. VERAFLO™ Therapy to treat a wound.  There are only a handful of situations where I would NEVER consider use of the therapy.  Wound care is dynamic and should be considered a continuum where patients and wounds are kinetic – the status, and therefore the needs, change. Goals of care also change, so to say any wound care treatment or therapy should ALWAYS or NEVER be used would be closed minded and fail to address the variability of wound care and healing.