Did you miss any WCEI blogs?  Never fear, we wrap up the year with the topics that were most read, shared, and commented upon.
In 2016, we covered a lot of ground, bringing you straight talk on range of wound care topics, including ostomy care, diabetic wounds, legal issues, assessment tips, and more. Which were readers' top five favorites? Here's the run-down.
Maceration and Hydrogels? Just Say Whoa
How do you use hydrogel dressings to keep wounds moist without causing maceration? Very carefully.
---
Exudate: The Type and Amount Is Telling You Something
Wound care clinicians need to know about the different types of exudate – and how much is present – for successful wound treatment and healing.
---
Say Cheese to the Camera: Wound Photography Shot by Family Members
These days, most people have a camera in their pocket, giving family members the ability to take their own wound photographs.
---
Wound Care Myths: 5 More Debunked
Whether it involves heel protectors, anti-embolism stockings, or letting wounds "breathe," there are still plenty of wound-care myths circulating out there. Ready for the truth? You can handle it.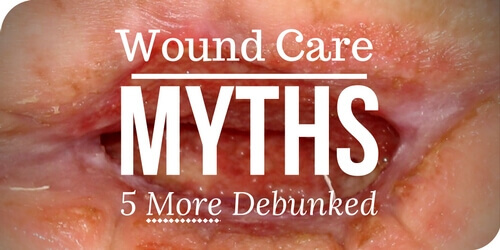 ---
Let's Talk Ostomy Types
A comprehensive guide to the different types of ostomies, including colostomies, ileostomies, and urostomies.
What was your favorite blog of 2016? What topics would you like us to cover in 2017?  Tell us in the comments. We'd love your feedback and look forward to bringing you more information you can use in the new year!
Don't forget to subcribe below if you'd to receive a monthly wrap-up of all of the WCEI blogs, delivered straight to your inbox.
Wound Care Education Institute® provides online and onsite courses in the fields of Skin, Wound, Diabetic and Ostomy Management. Health care professionals who meet the eligibility requirements may sit for the prestigious WCC®, DWC® and OMS national board certification examinations through the National Alliance of Wound Care and Ostomy® (NAWCO®). For more information see wcei.net.
What do you think?
comments