Join Wound Care Education Institute (WCEI), the National Pressure Ulcer Advisory Panel (NPUAP), and healthcare organizations across the globe in promoting awareness about pressure injury prevention!
To celebrate, we've brought together WCEI resources– webinars, blogs, journal articles, slideshows and downloads— to help keep you on top of the current pressure injury guidelines and definitions.
On-Demand Pressure Injury Webinars
All webinars are one hour. Eduction credit is available.
WCEI Blog Articles About Pressure Injuries
Real World Pressure Ulcers: Staging Can Be Tricky
This wound care Q&A answers five of the most common questions about pressure ulcer staging dilemmas (that you probably didn't learn from textbooks).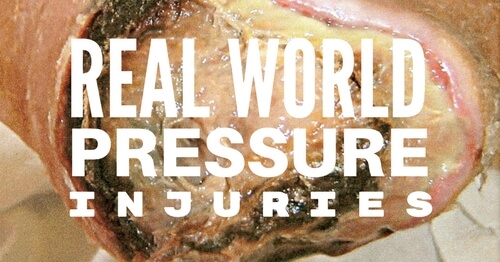 Pressure Injury (Ulcer) Staging: More Real-World Answers
More real-world wound care questions and answers relating to pressure injury staging, including slough, debridement and skin breakdown.
Pressure Injuries? (Don't) Say It Ain't So!
Mounting pressure to call pressure injuries (aka pressure ulcers) something else has caused a stir – and clinicians in wound care are feeling the heat. Find out why.
Floating Heels: More Than Just Pillow Talk
The way you float the heels matters: new guidelines mean better patient care and lower risk of citations.
Pressure Injuries with Cartilage? Stage Away
When it comes to wound care, staging pressure injuries with visible or palpable cartilage doesn't have to be complicated. Here's what to do.  
Pressure Injuries and Medical Device Dilemmas
Medical device-related pressure injuries (MDRPIs) are a standard part of wound care, but preventative practices can make a big difference.
Will the Real Pressure Ulcer Please Stand Up?
How to know the difference between Incontinence Associated Dermatitis (IAD) and pressure ulcers.
Pressure Injury Case Shines Spotlight on Wound Care Education
Trained wound care clinicians truly make a difference in the lives of their patients. This caregiver knows first-hand, and wanted to share her story. 
News Flash: Document Education or Risk Facing Pressure Ulcer Citations
Failing to provide and document wound care educational efforts can lead to citations! For example, a facility was cited for not providing written documentation to a patient and his family about his Stage 2 pressure injury.
Pressure Ulcers: Beyond the Risk Scales
When it comes to pressure ulcer prevention and treatment, traditional risk assessment tools don't always tell the whole story. Find out what does.
Pressure Injury Staging Slideshow – Test Yourself!
(Having trouble viewing? Expand the presentation to full screen or view in SlideShare.)
Wound Central journal Vol 1, Issue 1: Focus on Pressure Injuries
(The journal is FREE. Log in or sign up for access).
Downloadable Pressure Injury Staging Resource Guide
Wound Care Education Institute® provides online and onsite courses in Skin, Wound, Diabetic and Ostomy Management. Eligible clinicians may sit for the prestigious WCC®, DWC® and OMS national board certification exams through the National Alliance of Wound Care and Ostomy®(NAWCO®). For details, see wcei.net.
What do you think?
comments