Nancy Collins, PhD, RDN, LD, FAPWCA, FAND
Bereavement care is part of the job, no matter how difficult it is to talk about death and deal with grieving family members.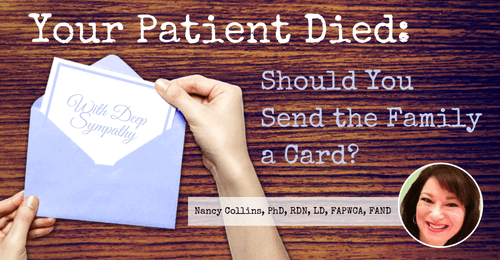 "Callous disregard." These two little emotionally loaded words are how the plaintiff complaint summed up the following story from a grieving daughter named Sally.* In her deposition, Sally recounted how nice and welcoming everyone was at the nursing home when she toured it 3 years ago prior to moving her mom in. It seemed like a good place where the staff could provide the care her mom needed; care Sally was no longer able to provide for her at home as her mom's physical and mental condition continued to worsen. Those feel-good sentiments were replaced by anger, sadness, and ultimately litigation after her mom died. When Sally was asked why she was suing, she replied that no one at the nursing home cared about her mother.