Check out these best practices for trimming your diabetic patient's toenails, which can help in preventing foot ulceration.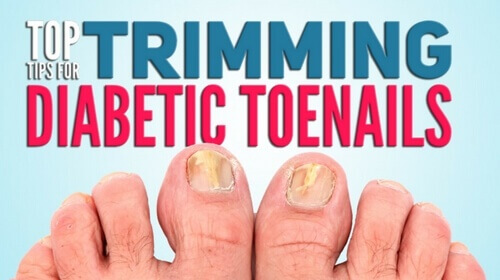 Did you know that a whopping 10-25% percent of all patients with diabetes ultimately develop a foot ulcer – a diagnosis that brings a five-year mortality rate of nearly 50%? Consistent foot care, such as regular screenings, footwear assessment and nail maintenance can help prevent ulceration.
You can help diabetic patients with nail maintenance by taking extra care to preserve the integrity of the toenails. This includes keeping the cuticles and surrounding skin intact, and following best practices when trimming the nails. That's why we've put together our top tips for proper trimming.
Start with Proper Tools
The first thing you'll need when trimming toenails are proper tools, which include a nail file, an orange stick and a set of toenail nippers.  Remember to always follow your facility or healthcare setting's policy for infection control. And whenever possible, use single-use, disposable equipment.
Soak and Wash the Feet
Nails are easiest to trim after they have been soaked and softened for 10 minutes in a foot bath (water temperature not more than 95-100°F). You can save some time while the feet are still soaking by cleaning under the patient's toenails with an orange stick, wiping it with a clean washcloth in between each toe. Incidentally, it is important to educate patients and their families that the soaking of a diabetic patient's feet should only be done by a healthcare professional.
Safely Clip the Toenails
Once you've finished soaking and washing the patient's feet, dry them completely. Then follow these steps:
Wash your hands and put on new gloves.
Use your dominant hand to hold the nipper.
Stabilize the toe to be clipped with your non-dominant hand and use one finger to stabilize the nail.
Start with the small toe and work your way medial, toward the great toe.
Position the curve of the nipperwith the cutting edge facing down and align it over the free nail edge. Slightly tilt the top of the nipper back toward the nail plate. It is important to check the curve of the blade in relation to the nail you plan to cut.
Squeeze the nipper to make small nips and cut along the curve of the toenail, making sure to not to cut the skin.
Use your index finger to block any flying nail fragments.
Use nippers like a pair of scissors – to make small cuts.
Never cut the nail in one clip all the way across the nail.
Never use two hands on the nipper.
Continue trimming each nail with small cuts in a systematic manner.
The nail should be cut level with the tips of the toes, and never cut so short as to break the seal between the nail and the nail bed.
The shape of the nail should be cut straight across, and an emery board should be used to slightly round the edges.
When filing nails, always use long strokes in one direction – avoid using a back and forth sawing motion.
Finish the Job
Once all toenails have been trimmed and filed, remove gloves and wash your hands. Put on a new set of clean gloves, and then apply (and thoroughly rub in) lotion to the top and bottom of the patient's feet (for more information about emollient lotions and creams, see the WCEI blog "Dry Skin Alert: Xerosis in Diabetic Patients"). Wipe excess lotion off with a towel. Put patients socks and shoes back on as needed. Wash your hands one more time, and you're done!
Want to Learn More?
When it comes to wound care and ways we can help our patients, there's always more to learn. Start by seeking advance training, such as WCEI's Diabetic Wound Management certification course, where you'll gain the knowledge to combat complex and costly wounds once they occur. For more information about the course and the prestigious DWC® board certification through the National Alliance of Wound Care and Ostomy®, see http://www.wcei.net/DWC.
Wound Care Education Institute® provides online and onsite courses in the fields of Skin, Wound, Diabetic and OstomyManagement. Health care professionals who meet the eligibility requirements may sit for the prestigious WCC®, DWC® and OMS national board certification examinations through the National Alliance of Wound Care and Ostomy® (NAWCO®). For more information see wcei.net.
What do you think?
comments
Tags: Diabetic Foot, diabetic patients, diabetic wound, foot ulceration, Wound Care, Wound Management, Xerosis